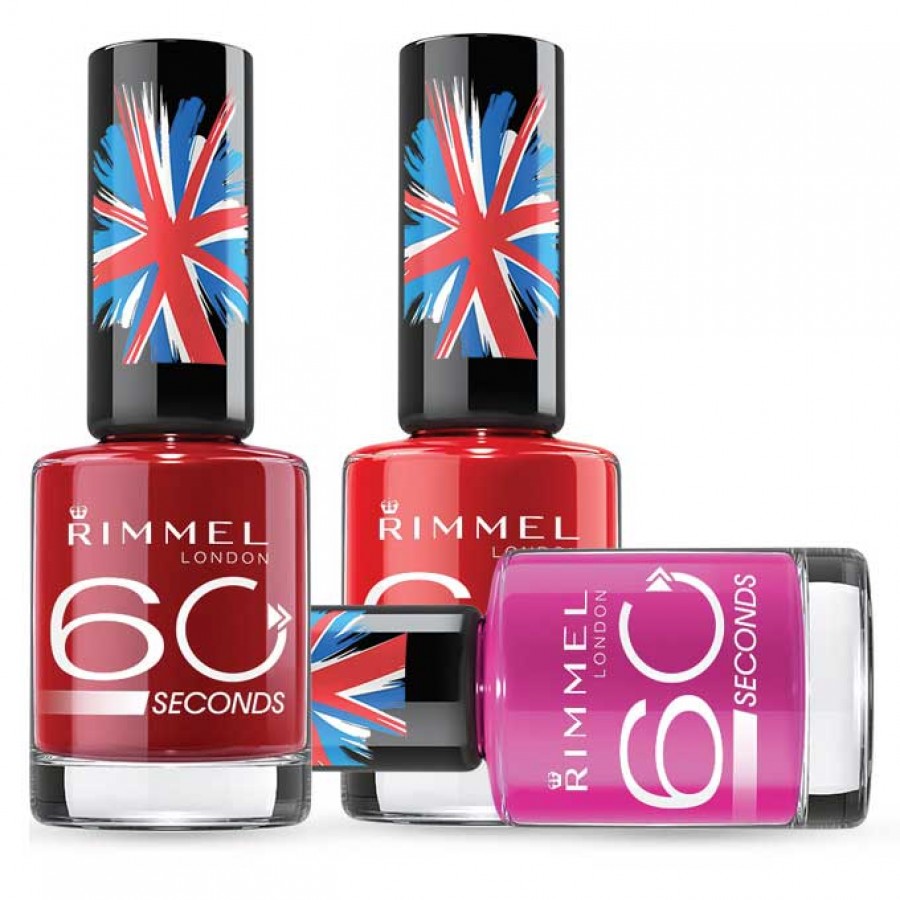 It is said that men pay attention to women's hands and nails. Dear ladies, if you want to charm a male friend of yours, it is high time to take well care of your nails!
Does it often happen that your time is running out  inexorably when you are getting ready for a date? Or does it frequently happen that you think that everything is done, that you managed to dress yourself up and line yourself up, and suddenly you notice that you have forgotten to paint the nails? Which one of us has experienced such an unpleasant surprise? And what should be the perfect nail polish? It should be closed in a handy and airtight, glass bottle. What is more, it should be easy to apply, dry out fast and be durable. It is also crucial for the nail polish to have right texture and soft brush. And this is pretty all we need from a nail polish to be. Probably, you are convinced that there is no such thing as perfect. And yet it is! One of such ideal cosmetics is 60 Seconds, Nail Polish by Rimmel.
Let us check what is so impressive about Nail Polish by Rimmel. But first, we are going to focus on the factors that determine us to buy a particular product. Mainly, these are price, appearance, easy manner of application and many many other aspects that are picked accordingly to one's preferences and expectations. Probably, low price and high quality is the ideal combination which will convince everyone to purchase this particular product. Definitely, buying 60 Seconds by Rimmel does not affect your budget in any degree yet you gain a high quality nail polish. How it is possible?
First of all, 60 Seconds by Rimmel is closed in a convenient bottle. Obviously, this is not everything that makes this product so exceptional. The package has a big and handy cap. Thanks to this, it is easy to unscrew it and wield the brush. While talking about the brush, it was designed in such a way to make the application completely problem-free since it is big, wide and flat. These features facilitate even distribution of the product on nail plates.
The wide range of colour scheme offered by the producer might make heads spin. Nail polish by Rimmel is available in natural and bright shades like, for example, pinks and beiges as well as darker colours like reds or browns. You can also choose among extravagant colours like juicy green or violet. It is also worth mentioning that application of second coat produces better effect since the nails get more vivid and intensive colours. What is more, the producer guarantees that the nail polish dries out within just one minute. And it is possible due to appropriate consistency which is neither  too liquid nor too dense. Another great asset of the cosmetic is the fact that it is fairly productive. The capacity of a bottle equals 8 ml. Last but not least, 60 Seconds by Rimmel is available almost at every drugstore.
Dear ladies, you have learnt the secret of marvelous fingernails. Now, you can astonish your beloved men and enjoy the long-lasting effect of neat fingernails thanks to Rimmel.