The trend for gel manicure is slowly losing its enthusiasts. We spend more time at home so we've started focusing on making our living space perfect, hence often house cleaning. Sadly, frequent exposition to harsh detergents is what makes our fingernails weak. What should be done to prevent the nails form getting more and more weak?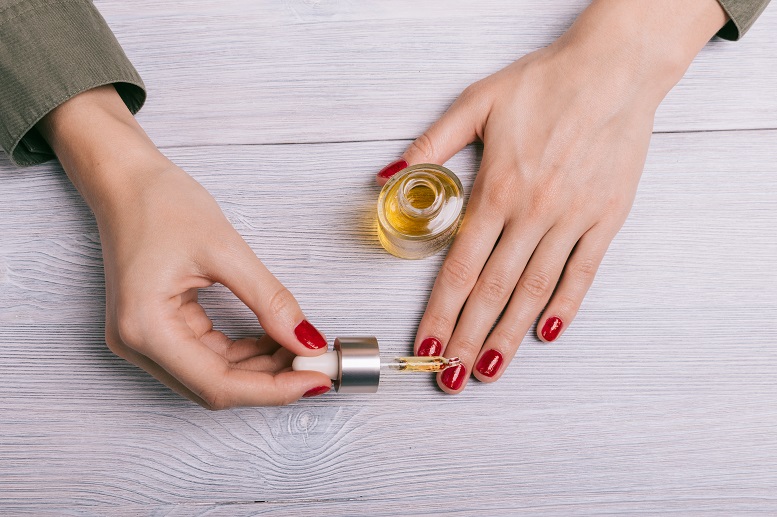 Luckily, we know how to repair nails damaged due to gel manicure and house chores. And the best thing is that the remedy is all-natural and efficacious. Give castor oil a try and stop worrying about brittle and dehydrated nails that keep breaking.
What damages nails?
There are many things that make the nails brittle and weak. Naturally, the most serious one is removal of gel manicure, especially when done at home. Apart from this, nails get weaker when exposed to chemical substances and mechanical injury that are common for doing house chores.
It's worth realizing that a beautician is more experienced than us and uses professional tools to remove gel manicure, which significantly reduces the risk of nail brittleness. It was proven that taking gel manicure off at home is the most common cause of damage done not only to the nail plate but also to the nail matrix. And this has dramatic consequences for the fingernails and their health.
Remedy for damaged nails? You surely have "it" already at home!
You must act fast if you want to stop the nails from getting damaged. It'd be best if you reached for a natural product that isn't formulated with artificial substances, which may contribute to even greater nail damage. We advise you to forget all the nail conditioners (especially those sold in the form of nail polishes). They don't give you the results you expect to achieve. So what is your life-saver? It's surprisingly cheap and used by many. Perhaps you already have it at home! What is it? It's castor oil!
Castor oil & lemon for nails – recipe
Take a portion of castor oil and combine it with the same amount of lemon juice (e.g. one tablespoon each). Although it will be hard for you to combine both ingredients fully, try your best to create an even mixture. Once you do this, apply your homemade conditioner to the nails. Soon castor oil will repair and protect the nails, and lemon juice will improve the look of the nail plate. If you want to, you can store your homemade nail conditioner in a dark glass bottle (e.g. in an old nail polish bottle).
Castor oil & lemon for nails – directions for use
Spread the conditioner over the nails and the skin around them every day at bedtime. Obviously, make sure that your nails are perfectly clean and aren't covered with a nail polish before putting the conditioner on. Keep massaging each nail and the skin around it for a few seconds. Once you finish, don't wash the hands, just let the oil slowly improve the nails as you sleep. Every morning you'll see a small improvement in your nail's appearance.
Castor oil & lemon for nails – results
The good news is that the first results can be observed already after one use of this castor oil and lemon juice nail conditioner. The complete nail repair will follow shortly. In most cases fingernails need a few weeks to carry out the full self-reconstruction process. If you keep applying the home nail conditioner regularly, you can expect to achieve the following effects:
moisturized skin around nails
softer cuticles that are easier to remove
stronger nail plate
no more brittle and split nails
more elastic fingernails
nails protected from damage
visibly brighter nail plate.