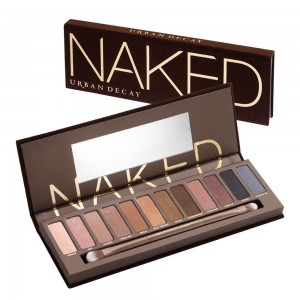 Urban Decay cosmetic brand is well-known for its big eye shadow palettes named Naked 1, 2 and 3. Each of the palettes contains a small mirror placed on the bottom of the upper lid and two-tip applicators. All shades composing Urban Decay are intensively pigmented. Each palette is comprises of different set of shades. What is similar though, the shades are arranged in each palette alike. To demonstrate, on the left hand side we can find the brightest shades that transform into the darkest ones placed on the right hand side of the case.
Naked 1 Palette includes 12 eye shadows, each of 1,5 grams. The shades are brown in tone: bright beiges, natural bronzes and dark brown colours. We can find a black and a dark blue shade as well. Some of the shades contain sparkling particles. Naked 2 Palette is also composed of 12 matte shades. Pinks, bronzes, beiges, white, black and grey are the colours that create the set. When it comes to Naked 3 Palette, it is the newest set by Urban Decay. It includes 12 shades of pink tone (both matte and sparkling). The palette also contains a white, a grey and a black shade.
Each of the palette has it own, smaller equivalent. Mini palettes contain six eye shadows of white, black, beige and brown shades.
Eye makeup with Nude 2 Palette – Tutorial
Cover your entire eyelid with an eye shadow keeper first – this will make your makeup more durable. Now, apply Snake Bite along the crease. Then, use Chopper (sparkling gold) and apply it on the upper eyelid. Define the outer corner of the eye and the outer part of the crease with Busted shade. Blend it precisely with Snake Bite. Apply the darkest shade from the palette, Blackout, on the same spots. Again, blend it with the other shades. Next, apply an eyeliner along upper eyelash root line. Now, you can put on a foundation, a concealer, a powder, a bronzer and a blusher. The last step, coat your eyelashes with a super black mascara and apply a lipgloss.