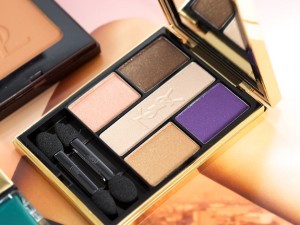 Probably most people are aware of the fact that Yves Saint Laurent is a famous fashion designer. But not everybody knows that its name is carried by many exclusive cosmetics designed either for body and face care or for make-up.
One of the cosmetics by Yves Saint Laurent is an eye shadow palette Ombres 5 Lumieres. The elegant, golden case holds five metallic and matte shades. The eye shadows gift eyes with gleam, smooth eyelids and make eyes look much bigger then they really are. Moreover, the cosmetic is strongly pigmented thanks to which the shades stay true long when applied. Another plus of the product, the eye shadows by Yves Saint Laurent do not tend to gather in the crease of the eye.
Ombres 5 Lumieres palettes are available in five colour schemes. Tawny palette contains two caramel and two brown shades as well as one ecru. Indian Pink is a compilation of pink and violet shades accompanied with one white. Lilac Sky is a darker version of Indian Pink palette. Midnight carries pink, pale blue, grey, violet and black shades. Rivera palette contains five shades of blue. The great asset of all the palettes are the mirrors attached to lids and sets of two applicators with two sponges at each tip.
How to apply Yves Saint Laurent eye shadows? First of all, you can do it both ways: dry and wet. In order to do full eye make-up, use at least three shades – for the most outstanding effects match four or five shades. The brightest shades have to be applied on inner corner of the eyes and right underneath eyebrow arch (blend them with 'middle' shades). The darkest shades in turn should be put on outer corner of the eye and on the lower eyelid. It is a good idea to cover entire upper eyelid with sparkling eyeshadows. The 'middle' shades should be applied to the centre of eyelids. Remember to blend all the shades precisely. At the end, coat your eyelashes with a black mascara.