Among all the natural skin toners, rose waters, lavender waters and coconut waters, we often forget about birch soap – better known to others as birch water. It appears, however, that the benefits of birch soap for skin and hair outclass all the herbal/floral waters combined together.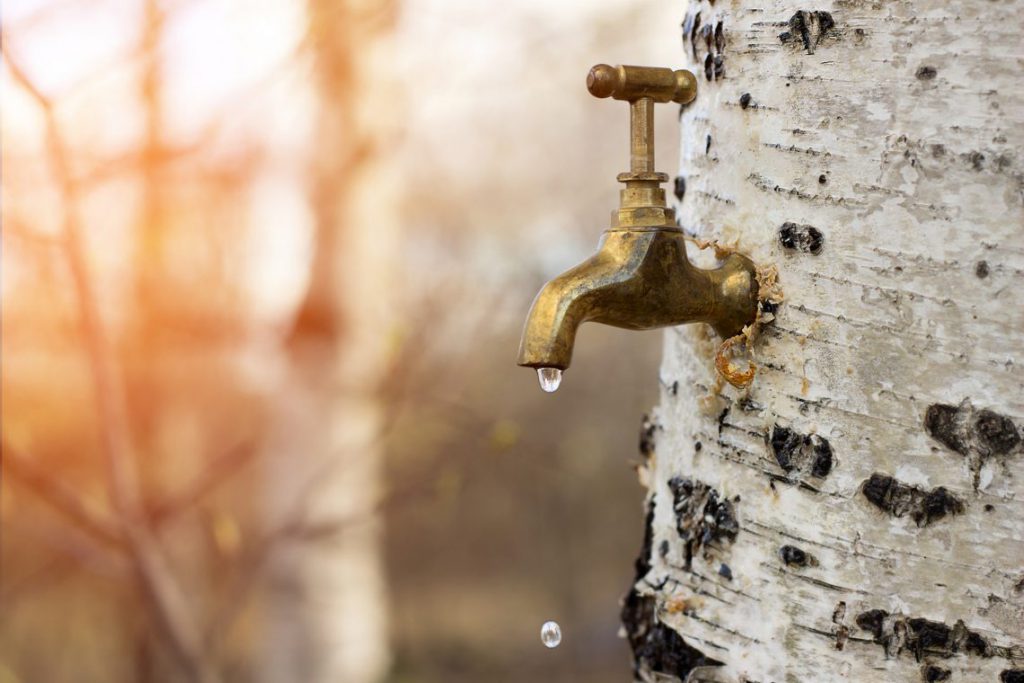 Birch is a mighty tree having enormous powers to improve our health and physical appearance. Keep reading to find out how birch soap works and how you can introduce it to your daily beauty ritual. Get yourself ready for strong and lustrous tresses, and flawless complexion!
Birch sap to enhance your beauty
Birch sap, which has a few names such as birch water or birch juice, is known to our grandparents and parents really well. At the beginning of spring, they used to go to the forest to tap this precious water from birch trees that were awaking after the winter. Why the birch in particular? Because this tree was (and still is) perceived as a symbol of good health and strength. In Chinese medicine, for example, people believe that birch water is able to restore vitality and improve our health. Since birch is so powerful and beneficial for humans, how can we make use of the very powers?
The benefits of birch sap
Birch water is a potent beauty elixir. It's more than great that we recognize the value of nature and turn to the old-known natural substances. Birch sap works wonders the same moment we apply it to our skin and hair. It contains hundreds of active substances, including fatty acids and essential oils. And the best bit is that you can drink it and apply it to the face (a replacement for a skin toner). What are the benefits of birch sap for the skin? For example, the antioxidants birch water is full of delay ageing.
This is useful!
Birch sap is proven to be a substance brimming with proteins, natural sugars and electrolytes that can help you get back on your feet pretty fast. This is why drinking birch sap is recommended to sportspeople and those who want to stay fit.
Birch sap as a replacement for commercial beauty products
Indeed, this is a marvelous idea to resign from using a regular cosmetic to treat your body/hair with birch water! How to do it? For example, you can use birch sap as an all-natural skin toner (it tightens the skin, nourishes and rejuvenates). Moreover, try combining it with natural beauty oils. Rub it into the hair, use as a mist or mix with clay. Quickly you will see how glowing your skin is getting and how moisturized it is!
What is birch sap made up of?
Birch water is full of micro-elements and minerals. It contains B-group vitamins, phosphorus, potassium, calcium, magnesium and iron. Apart from that, birch sap also offers acids: citric acid and malic acid, but that's not all. Birch sap also contains copper and tannins.
Bitch sap is a source of:
vitamin C
B-group vitamins
calcium
potassium
phosphorus
magnesium
iron
copper
amino acids
tannins
Birch sap as a natural beauty product
Are you trying to combat persistent acne? Reach for birch sap! When applied to the skin, it cleanses the dermis and brightens the complexion, reduces acne, erases discolorations and soothes inflammations. Birch water leaves skin looking fresh and youthful, the skin is resilient and replenished with water.
Do you often have dark circles under your eyes? Damp a cotton pad with birch water and put on the eyes. You can also use the sap as a face and body mist – it has a pleasant and gentle aroma. In addition, birch water is proven to be both a moisturizer and an antiseptic.
Another advantage of this product is it's tremendously positive influence on the hair. Birch sap is able to make the follicles and the hair shafts stronger. Furthermore, it eliminates dandruff and is recommended to combat the oily scalp problem. Do you want to promote hair growth? Keep rubbing birch sap to the scalp at bedtime or apply to the damp hair after washing. Did you know that birch water is able to boost hair shine? Last but not least, it's able to deal with the problem of dry and dull hair.
Where can I get genuine birch soap from?
Birch soap can be bought in the stores selling ecological products and herbs as well as health food shops. Obviously, if you only have a chance, you can try to extract it yourself. Apart from birch sap, you can also make use of healing ointment with birch bark extract. Many people say that they use birch leaves to soothe various aches.
Stunning figure thanks to… birch? Birch sugar and its benefits
Now you know that you can obtain sap (water) from birch, but did you know that this tree is also a source of sugar – xylitol? This is the best and the healthiest natural sweetener that mother nature has ever given us. Also, it has less calories than this commonly used white sugar, called by many "white death". Apart from that, it has a low glycemic index, which means that it prevents you from putting on weight. Last but not least, xylitol takes care of teeth! It's proven that birch sugar combats tooth decay. For that reason, quality chewing gums are formulated with xylitol.