Indeed, cats are a real hit of the Internet. But can cats be also a real hit of makeup? Obviously, they can! Take a look at Paul & Joe cosmetic collection called Meow!
Finally all cat-lovers can find real treats in their drugstores and chemists. And we are not talking about toys for the fluffy pets of theirs. It is about Paul & Joe cosmetics. What do the products have in common with animals? The truth is that quite a lot, indeed. For example, the packages are decorated with images of these little lions. Obviously, pictures of cats outnumber images of other animals. What is more, the cosmetics are similar to cats in terms of shapes. To illustrate, stick blushers have carved cat figures instead of a regular stick. The tips of lipsticks, in turn, are paw-shaped.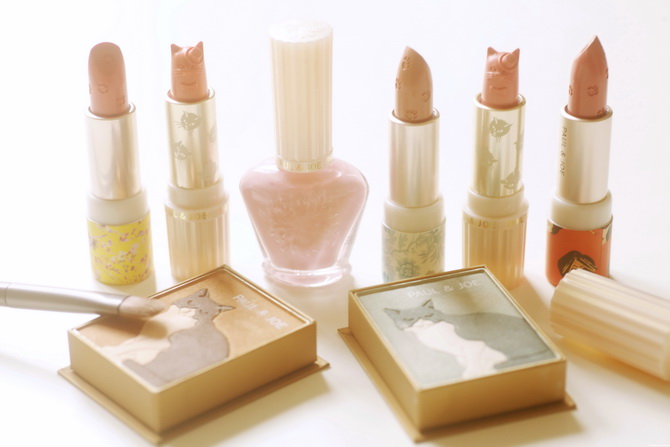 This cat-collection is comprised of many various products. Nail polishes are packed into small cardboard boxes with cat images on them. Pearl nude, bubble gum and intensive pink are the colours of the nail polishes. Waterproof eyeliners are perfect for applying cat eye eyelines. The cosmetic goes with a small applicator (a little, flat brush). The eyeliner is packed in an oblong box. Furthermore, eyeshadows and lipsticks compose sets. Each of the set is assigned to different colour. These are packed into white cardboard boxes decorated with images of cats, which does not longer surprise. The eyeshadows are available in three colour schemes. Siamense Please is the palette of brown shades, Kittycat is the combination of pink shades and Purr Fect palette contains grey shades. All the colours are not only delicate but also are just perfect for bringing out the girlish charm. Which is easy to foresee, there is an image of a cat pressed on each palette. When it comes to the lipsticks, these are available in the following colours: beige, coral and pink. As mentioned before, tips of the lipsticks are paw-shaped. Obviously, the pressed powder is also decorated with the image of a cat. The cosmetic goes with a mirror and a sponge with a paw-print on it. The powder contains two shades. The darker shade is cat-shaped whereas the brighter shade represent a background for the cat figure. The most interesting in the complete collection are the stick blushers. These are not only shaped cat-like but also the very cats wear hats and bow-ties. The pointy-ended ears of cats may impede putting on makeup a little bit. Basically, there are three shades of the blushers: powder pink, warm pink and juicy red.
The complete cat-collection looks outstanding and somehow cute. All the cosmetics resemble tiny works of art which may hold back some women from using them.