Do you wonder how to restore natural gloss to dull hair? Maybe it is worth giving a try to a new cosmetic collection which is used by professional hairstylist in their salons. Let us introduce you Syoss Glossing Shine–Seal.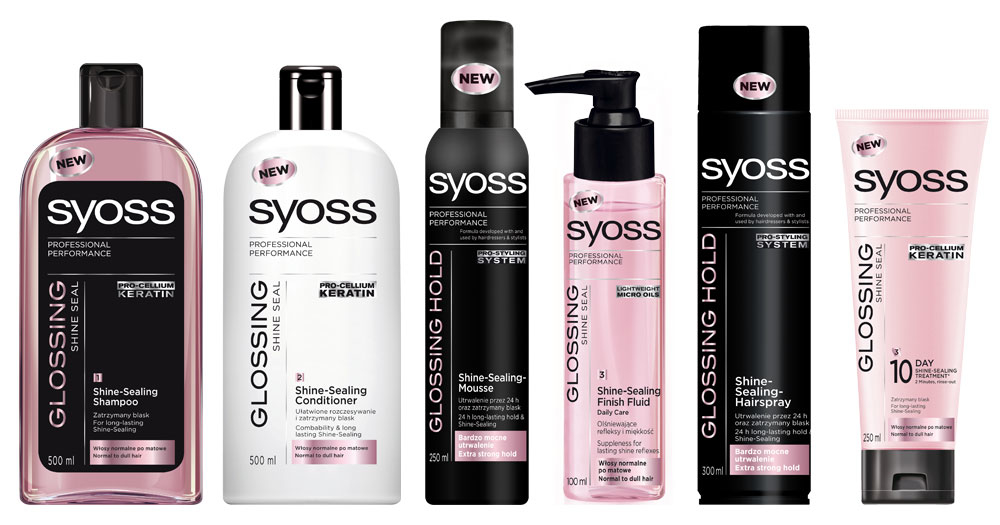 This is fairly typical that right after leaving a hairdresser's we are amazed at our new hairdo. We do touch and check it over and over again. The truth is, we just want this effect to last as long as possible. Unfortunately, just after one day, our hair returns to its old form and even the most backbreaking hair treatments performed at home cannot restore the past glories. So what should be done? Simply equip yourself with glossing collection designed by Syoss.
Hair type that is deprived of gloss is mainly dry hair. Hairdresser's treatments, strong solar radiation and aggressive agents deriving from the external environment are the main factors responsible for that deteriorated condition of strands. Damaged hair lacks of keratin – the key component of healthy hair structure. Glossing Shine–Seal is a composition of four cosmetics designed to gift hair with long-lasting gloss, softness and smooth appearance. Let us take a closer look on each of Syoss products separately.
The shampoo is for delicate hair washing – it cleanses and takes care of hair. Keratin included into its composition is able to strengthen and nourish hair structure. When it comes to the conditioner, it makes the combing easier as it prevents tangling. It has light texture which counteracts weighting hair down. Owning to special properties that are included into Finish Fluid's composition, the product is responsible for repairing damaged and dry hair. The cosmetic should be applied on damp or toweled hair. The last component of Glossing Shine–Seal collection is the hair mask. If applied regularly, it supplies hair with gloss. Due to unique composition, that is enriched with keratin, the product rebuilds hair and restores healthy look of strands.
Systematic use of all the components of Glossing Shine–Seal collection by Syoss improves condition of hair as well as supplies strands with important nourishing substances. What is more, strands shine marvelously with every move made.