Anastasia Beverly Hills is growing in popularity, stealing the hearts of women all over the world, mostly for the flawless eyeshadow palettes. Which ones are actually worth your attention? Let's compare ABH palettes!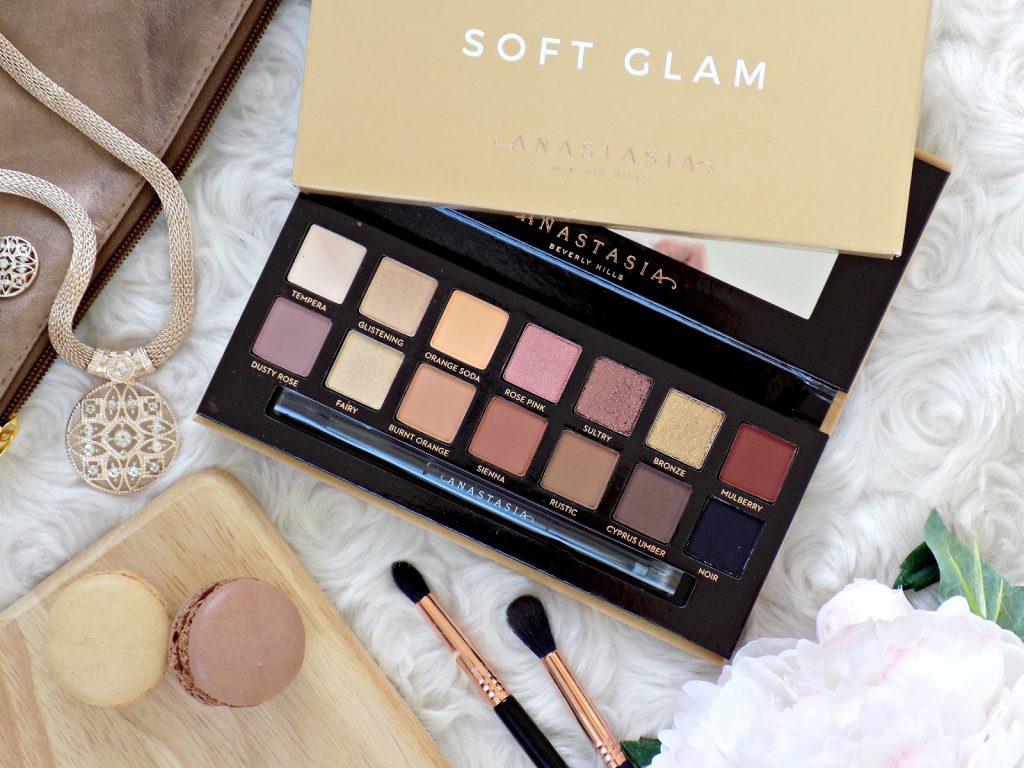 The history of Anastasia Beverly Hills is an example of the American Dream. It all began when Anastasia Soare went to the USA, started working at a beauty salon and discovered the importance of… eyebrows! Actually, the Anastasia Beverly Hills brand started off the adventure with professional eyebrow makeup products. Eyeshadows followed. Currently, there are as many as seven palettes available! The fans of professional makeup products dearly love Anastasia Beverly Hills palettes. How did the products earn the admiration and excellent reviews?
Anastasia Beverly Hills palettes – benefits
We should take a closer look at Anastasia Beverly Hills as they really deserve our attention. There are a few key elements that make them different from other makeup sets.
Design. All ABH palettes have been designed to amaze. Rectangular, same-style palettes are covered with soft suede on top. This velour coat doesn't appeal to every user due to its characteristic texture but, without doubts, it looks gorgeous. All ABH palettes have solid durable packagings.
Formula.

ABH palettes are world-famous for legendary, highly-pigmented, slightly-pressed matte eyeshadows. Women love them for the intense color saturation (Anastasia Beverly Hills black is real deep intense black) as well as easy blending and effortless application.

Long-wear.

The third benefit of ABH palettes. It means two things – the eyeshadow lasts impressively long on eyelids and the entire palette holds out really long. No flakes, no smudges, the color doesn't rub off or fade.
Let me introduce you to all ABH palettes!
Anastasia Beverly Hills Soft Glam Palette
Surely, it is the most popular Anastasia Beverly Hills palette which mostly amazes with the perfect composition of colors. The combination of 14 eyeshadows – mostly ultra matte shades, a few shimmery and bronzing hues. A flawless palette for the fans of nude makeup with a touch of glam. Soft Glam is fit both for a casual day makeup and elegant smokey eye. Rumor has it that Anastasia Beverly Hills Soft Glam Palette has been dedicated for brides.
Anastasia Beverly Hills Modern Renaissance Palette
In terms of popularity, Modern Renaissance Palette is a strong competitor. 14 shades giving a matte, satin or metallic finish. You can use it for creating several outstanding makeups. Dark elegant shades of claret, pink and orange, as well as beiges prevail. Unfortunately, there's no black hue which comes useful for defining eyelash line and making lashes look fuller. Still, the range of colors in Anastasia Beverly Hills Modern Renaissance Palette lets us create a daily look as well as bold makeup for big events, both in warm and cool tones.
Anastasia Beverly Hills Riviera Palette
Riviera is a new arrival by Anastasia Beverly Hills, long awaited by the lovers of bold colorful makeup. The combination of 14 vivid shades lets you create a truly stunning makeup using lively summer colors. Already the marine design puts us in a summertime mood. Riviera equals neutral bronzes and peach shades, as well as extremely bold pink, gold, violet and sky blue – in either matte or metallic version.
Anastasia Beverly Hills Sultry Palette
Sultry makes some girls think of Soft Glam as it has similar nude colors. Among 14 shades of ultra-matte and gorgeously shimmery shades, you find lots of beige and gold loved by the fans of soft makeup. By contrast, there is also a bold brick red and intense deep black – they let Anastasia Beverly Hills Sultry Palette turn a casual look into bold naughty highly-saturated makeup.
Anastasia Beverly Hills Novina Palette
A truly interesting offering from Anastasia Beverly Hills is Norvina which is, at the same time, the name of the ABH founder's daughter who designed this very palette. The set of 14 shades has both matte-finish and shimmery eyeshadows. There are a few fair neutral colors which make up a flawless primer. Next to them, there are shimmery pink and violet pastels and gold for giving your makeup a bolder finishing touch. Depending on your ideas for combining the colors, Norvina Palette is a good choice for both a daily makeup and a crazy party or festival.
Anastasia Beverly Hills Subculture Palette
So far, I haven't mentioned Anastasia Beverly Hills palette which would appeal mostly to the fans of the shades of green. Here you go! Subculture features 14 matte and shimmery hues where two beautiful intense green shades stand out. Obviously, they are combined with gold, brown and orange-like as well as wine-color shades – they all go along and allow creating lots of unusual bold makeup effects. This palette is quite dark so it won't be easy to get a soft neutral look.
Anastasia Beverly Hills Prism Palette
The last palette in the round-up. At first glance, Prism might make you feel a little bit confused. Anastasia Beverly Hills aims at giving makeup a twist and mixing the colors. The palette houses golden, silver, yellowish, pink, green, brown and violet eyeshadows. There are also two extremes – black and a very fair shade resembling white. Do they make a good match? Sure! Anastasia Beverly Hills Prism Palette give lots of possibilities to those who aren't used to one color gamut, like to turn around their makeup and experiment with colors.